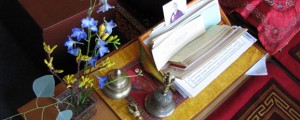 Teachings and Retreats at Kunzang Palchen Ling
All programs and practice sessions are held at 4330 Rte 9G in Red Hook, NY.
Download a PDF of the complete schedule for  November 2017 to March 2018. Many program have been rescheduled. Please consult consult the KPL Programs page or call Lila at 845-757-5571 or email info@kunzang.org to confirm an event before coming. Also, please let us know if you are planning to attend a program at KPL. This will help us be better prepared for your visit.
For some of the programs, early registration is available either online or by mail. In these cases, please access the registration page by clicking on the registration link within the program post. Your early registration will not only ensure you a seat, but will also help us better prepare for your visit. For further information about registration, please email your questions to registration@kunzang.org.
At this time KPL cannot offer meals for the attendees. Please provide for your own lunch during all-day programs. If you are coming from out-of-town, please review travel and local lodging information or call Lila at 845-757-5571 with questions.