Zurmang Gharwang Rinpoche to teach at KPL Sept. 2-3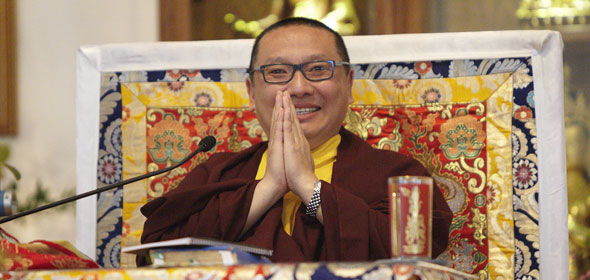 The Seven Points of Mind Training
Zurmang Gharwang Rinpoche
Sat 10am-noon & 2-4pm
& Sun 10am-noon
September 3
• 2pm | 
Four Kadampa Deities Empowerment
$40 for empowerment
•
$130 for teaching
The Seven Points of Mind Training are famous instructions first given in Tibet by Lord
Atisha and recorded by Geshe Chekawa. These seven points teach how to transform
adversities into the path, apply mind training to one's life and much more.
His Eminence Zurmang Gharwang Rinpoche
was recognized as the 12th
incarnation in the Gharwang lineage by His Holiness the 16th Karmapa. He was
a top scholar at Nalanda Buddhist Institute and has taught extensively in Europe,
America, and Asia. With his understanding of western culture and fluency in English,
Rinpoche is able to expound the dharma with ease and clarity.