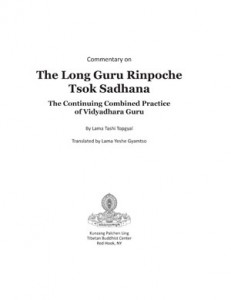 Commentary on the Long Guru Rinpoche Tsok Sadhana, by Lama Tashi Topgyal, Booklet
$35.00
In Stock
Commentary on The Long Guru Rinpoche Tsok Sadhana, The Continuing Combined Practice of  Vidyadhara Guru.
By Lama Tashi Topgyal, Translated by Yeshe Gyamtso
An explanation of what is now referred to as the long form of the Guru Rinpoche Tsok Sadhana from the terma of Barway Dorje, this teaching was given by Lama Tashi Topgyal at Kunzang Palchen Ling in 2006. This long form of the Guru Rinpoche practice is performed as a group practic at KPL on the 10th lunar day of every month. Information contained in this commentary is helpful for vajrayana practitioners, including practitioners of the short Guru Rinpoche sadhana, as Lama Tatop offers an excellent explanation of tsok practice in general as well as specifically to the long Guru Rinpoche practice.
Spiral bound, Paperback, 8 x 11, Kunzang Palchen Ling (2012), 135 pp